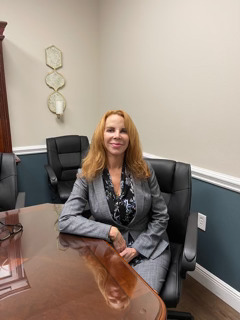 Elena Alvarez
Attorney
---
Elena Alvarez Has been a licensed attorney in the state of Florida since 1994. She is a graduate of Thomas M. Cooley School of Law in Lansing, Michigan. In law school she was the founder of the Hispanic Law Society and President, class Senator, and the recipient of the Outstanding Student Award. She holds a bachelor's degree from Florida International University where she majored in criminal justice and psychology. She is a member of the Florida Bar, American Immigration Lawyers Association and Admitted to practice Bankruptcy Law in the Middle and Southern Districts of Florida. She is also a licensed real estate agent in the state of Florida.
Elena is former law enforcement as she has worked as an Assistant State Attorney and was appointed by the Judicial Nominating Committee of the Brevard County Judiciary as a Child Support Enforcement Hearing Officer. She was also appointed by Governor Jeb Bush to the Cape Canaveral, Florida Hospital board where she served until she moved from the hospital district. She is also very proficient in medical billing and terminology as she comes from a medical family and has represented and built medical practices. She is fluent in both English and Spanish and can interpret and translate documents in both languages.
She specializes in many areas of law, including estate law, family law, real estate law, criminal, antitrust, bankruptcy, health law, medical claims appeals and immigration.
Elena has an intense passion for helping individuals with their legal issues. Her grandfather was her idol, and he was considered the best attorney in their province. He inspired her to help people and always strive to do her best.